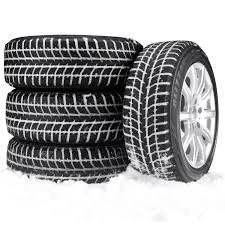 Winter tires? What the heck are those?
Winter tires are exactly what they sound like: a special set of tires designed specifically to cope with low ambient temperature and snow- or ice-covered pavement.
Purpose-built winter rubber trades warm-weather grip and dry-road steering feel for enhanced cold-weather traction. Sound boring? It's not. What we're talking about here is a piece of equipment that all but transforms the average passenger car into a take-no-prisoners snow machine.
Winter tires combine flexible rubber compounds with small tread blocks and hundreds of small cuts, or sipes, in tread itself. These blocks and cuts are designed to keep the tire's carcass constantly flexing and biting at the road surface, which in turn helps maximize grip on dynamic and unpredictable surfaces like snow or ice. (For this same reason, if you can keep them cool enough and get the pressures right, modern winter tires often work remarkably well on dirt and gravel roads.)
Visit our website today, or come in and talk about our expansive selection of OEM – approved Winter Tires with a Service Advisor!

5 Reasons To Buy From A Toyota Dealer:
1.

The right tires

for your Toyota model
2.
Toyota
tire price match guarantee
*

Found a better tire price? We'll match it! Simply bring in a printed quote from a local competitor within 30 days, and we'll refund you the difference.



* Conditions and exclusions apply. Contact us for details.


3.
Expert installation by
factory-trained technicians
4.
All major brands
, including BFGoodrich, Bridgestone, Dunlop, Goodyear, Michelin, Yokohama, and more
5.
Road hazard coverage included
on eligible tires
*Eligible tire purchases at your dealership come with 24-month road hazard coverage.




*100% coverage the first year



*50% coverage the second year
Service Hours
866-300-7308
| | |
| --- | --- |
| Monday | 7:00 am - 6:00 pm |
| Tuesday | 7:00 am - 6:00 pm |
| Wednesday | 7:00 am - 6:00 pm |
| Thursday | 7:00 am - 6:00 pm |
| Friday | 7:00 am - 6:00 pm |
| Saturday | 8:00 am - 1:00 pm |
| Sunday | Closed |