Toyota Tire Center in Ann Arbor, MI

Service Hours
866-300-7308
| | |
| --- | --- |
| Monday | 7:00 am - 6:00 pm |
| Tuesday | 7:00 am - 6:00 pm |
| Wednesday | 7:00 am - 6:00 pm |
| Thursday | 7:00 am - 6:00 pm |
| Friday | 7:00 am - 6:00 pm |
| Saturday | 8:00 am - 1:00 pm |
| Sunday | Closed |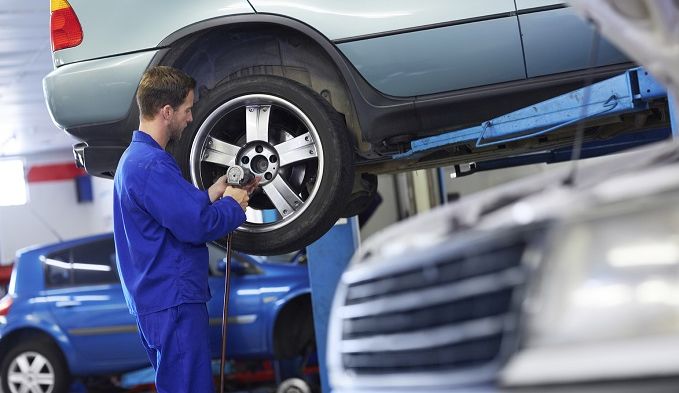 Despite being the sole point of contact between the road and your vehicle, your tires can sometimes be taken for granted. For this reason, Dunning Toyota is here to tell you more about the capabilities of our Toyota Tire Center! Whether you just need a quick rotation or a complete replacement set, our expert technicians are here to assist. If you have any questions on your mind, give us a call at 866-300-7308.
What Are the Benefits of Routine Tire Service?
If you're not in the habit of having your vehicle routinely serviced, then you might be wondering why you should visit us in the first place. To begin, your tires have to contend with a multitude of forces and stresses that impact how they perform, and neglecting to have them taken care of could lead to serious issues down the road, including decreased efficiency, loss of stability, and even a blowout. This is why we suggest stopping by every six months or so for a tire rotation to keep everything balanced. That way, you'll be able to replace them all at once as opposed to one at a time. Plus, you'll likely notice improved fuel economy and performance!
Tire Care at Dunning Toyota
When you stop into our service bay, you can trust that our knowledgeable mechanics will know just what to do. First, we'll inspect the wear patterns of all four components to determine the ideal configuration and to diagnose any other potential issues, such as improper inflation or a wheel misalignment. Or, if you're visiting us to purchase a new set, we'll be able to tell you what type of tire is just right for your Avalon, Highlander, Sienna, or Tundra. Additionally, tire service is part of our Express Maintenance Program, meaning that you can receive top-notch care in an expeditious manner.
Online Resources
Before you head over to see us, take a few moments to explore our website and utilize some of the tools we've provided for your convenience. Rather than rolling the dice and waiting until you arrive to see if you'll need to wait, simply reserve a timeslot for service by completing an appointment request. Have a question on your mind? No problem! Send it our way via the Ask a Tech tool for a quick reply. Finally, if you're hoping to save some cash, take a peek at our current service specials to see what sort of deals we're offering at the moment.
We hope to see you soon at our Toyota Tire Center in Ann Arbor, MI! Dunning Toyota is committed to offering outstanding customer service, so don't hesitate to let us know how we can improve. Our goal is to become your go-to provider for Toyota sales and service!
Testimonials
GOOGLE
7-7-2020
GOOGLE
7-6-2020
GOOGLE
7-5-2020
GOOGLE
7-1-2020
GOOGLE
6-30-2020
GOOGLE
6-27-2020
GOOGLE
6-25-2020
"Had some issues with my car a couple weeks ago. Purchased..."
DEALERRATER
6-24-2020
Had some issues with my car a couple weeks ago. Purchased...
CARS
6-24-2020
YAHOO
6-22-2020
YELP
6-22-2020
GOOGLE
6-20-2020
YELP
6-18-2020
YELP
6-15-2020
GOOGLE
6-13-2020
YELP
6-12-2020
GOOGLE
6-10-2020
GOOGLE
6-5-2020
GOOGLE
6-4-2020
YELP
6-4-2020
GOOGLE
6-3-2020
GOOGLE
5-31-2020
GOOGLE
5-30-2020
GOOGLE
5-22-2020
GOOGLE
5-21-2020
GOOGLE
5-21-2020
GOOGLE
5-19-2020
GOOGLE
5-18-2020
GOOGLE
5-14-2020
GOOGLE
5-12-2020
GOOGLE
5-8-2020
GOOGLE
5-5-2020
YELP
5-1-2020
GOOGLE
4-27-2020
YELP
4-22-2020
YELP
4-14-2020
YELP
4-4-2020
Read More