Convenient Toyota Dealership in Ann Arbor, MI
What Makes Dunning Toyota Ann Arbor different?
Our Toyota dealership in Ann Arbor, Michigan is unique in many ways, but we take special pride in our commitment to providing trusted and loyal service to our customers and community. Dunning Toyota is a family-owned and -operated business that has been part of the Ann Arbor community and its adjacent neighborhoods for more than 40 years.
With at least half a dozen team members working at Dunning for over 20 years, their experience and dedication is the driving force behind the "Dunning Difference." Our hard-working team strives to ensure our customers are happy and satisfied with our quality service.
As part of our commitment to make a difference, we recently upgraded our facilities with an environmentally conscious plan that will improve our carbon footprint. Part of our plan includes a list of amenities and conveniences to make every customer's experience at Dunning Toyota a great one.
Here are some of the wonderful conveniences we've added:


Car wash with any Service

Bigger Service Lanes

Expanded waiting area with comfortable seats, tables and wifi

Complimentary coffee and other hot drinks

Free shuttle service

Heated Delivery Area

Expanded, well lit, temperature control indoor showroom area for an easier and more pleasant shopping experience.

Pictures of all of the wonderful changes we've made over the last year



Thinking Green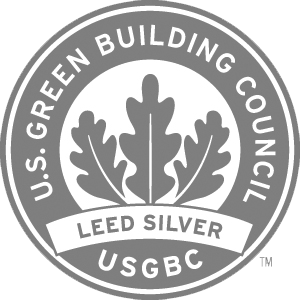 We are also proud to announce that our dealership has received Silver LEED* Certification! We are very proud of our efforts to become more environmentally responsible and conscious. Dunning Toyota is the first and only LEED certified Toyota dealership in Michigan. We hope that our efforts will inspire others to continue to improve their impact on the world around them.
Below is more information about some of the material changes and other choices we made to improve our dealership. Click information pictures to view full resolution.
Come in to our Toyota dealership in Ann Arbor, Michigan today and enjoy the unbeatable selection of new and used cars in our no-pressure atmosphere. Talk to our friendly and knowledgeable staff. They are ready to help you find the vehicle you're looking for.
Enjoy a shopping experience you can trust and learn firsthand why loyalty is so important to Dunning Toyota. Experience the Dunning Difference.
Dealership mural 
Thank you for your interest in Dunning Toyota of Ann Arbor. We hope to see you soon!
---
*The LEED® Certification trademark owned by the U.S. Green Building Council and is used with permission.
Why is Dunning Toyota the Go-To Spot for Ypsilanti, Jackson MI, Brighton MI and Chelsea MI Drivers Seeking a New or Used Toyota Vehicle?
It could be our varied and accommodating selection of new Toyota models, including the much-loved Toyota Corolla, Camry, RAV4, Prius and Sienna. Perhaps it's our equally vast range of high-quality, Dunning Toyota-approved used cars.
It may also very well be the Toyota financing offers available to customers who shop with Dunning Toyota. With these auto loan and car lease options, shoppers feel at ease, worry-free, and extra satisfied with their purchase.
Dunning Toyota isn't only a place for those in the market for a new Toyota car. We're also the go-to spot for those already behind the wheel. Customers find our car service and maintenance center, also located in Ann Arbor, Michigan, both convenient and competent.
It doesn't stop there-- Dunning Toyota also host an array of services to personalize or enhance your Toyota driving experience. Just ask our onsite auto parts and accessories department what we mean.
Still not clear about why so many trust Dunning Toyota for all of their Toyota needs? Visit our dealership at 3745 Jackson Road Ann Arbor, Michigan and find out for yourself!